If you've watched the Apple event, you may have noticed that Apple M1 Silicon is being expanded to include two new chips, the M1 Pro and the M1 Max. Apple has an official press release about it, and no doubt that esteemed industry analysts will soon be sharing their comments on those processors. And these new processors also mean new MacBook Pro systems.
Note that this blog post is more about personal experience and choices rather than a deep-dive of the technology and announcements. And it doesn't have a real kind of structure or guiding line, so be warned.
Past Frustrations
I've been fairly vocal in the past complaining about the botched design of the 16-inch MacBook Pro, a machine that overpromised, underdelivered, and was crippled by thermal issues. The only solution to get it work acceptably was to mod it by adding thermal pads, effectively voiding its warranty. But since Apple never acknowledged the fact that their machine had design constraints, they would not replace it anyway.
This translated into a very noisy laptop, with fans always on, poor thermal control and insane power draw. In all effects, I recognize that going with an almost top-of-the-line 16-inch MacBook Pro (Intel Core i9 9980K CPU, 32 GB RAM, Radeon 5300M GPU) was not a good idea at all, because that was way too much power draw, and way too much heat to dissipate to work accurately in this constrained form factor.
It was a terrible idea in fact, coming from the pre-COVID assumption that we at TECHunplugged would be constantly on the road at events / conferences, doing on-site audio/video recordings and producing video on the go. A great nomad workplace idea rendered useless by the pandemic.
Hopes Fulfilled…
The introduction of the M1 chip gave us hope that Apple would eventually expand the incredible innovation they achieved into their professional product range. What I was personally hoping for was equivalent performance to the Intel 16-inch, with better thermals (no overheating, no fans screaming), and better battery life.
The regular M1 chip launch already promised that we wouldn't be disappointed, and the event announcements have exceeded all sorts of expectations, proving that the new MBP was the machine we needed from a performance, thermals / power draw and form factor perspective.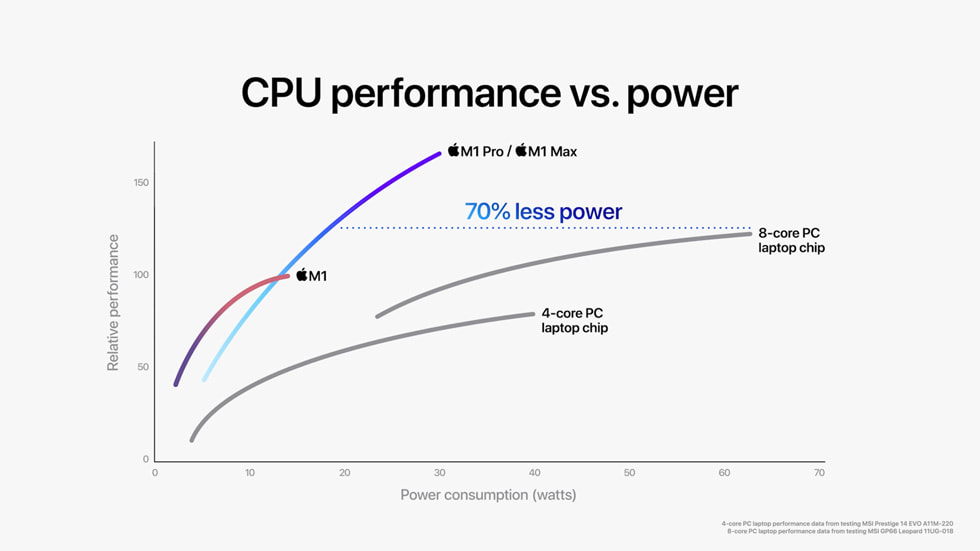 The decision to make the jump was the overwhelmingly positive feedback from M1 system owners, which indicated that the chip was great for general purpose usage, and that an advanced version aimed at professional users would make the experience even better. The picture below from the Apple Press Release shows all three chips side by side. The difference between the M1 and the M1 Max is staggering!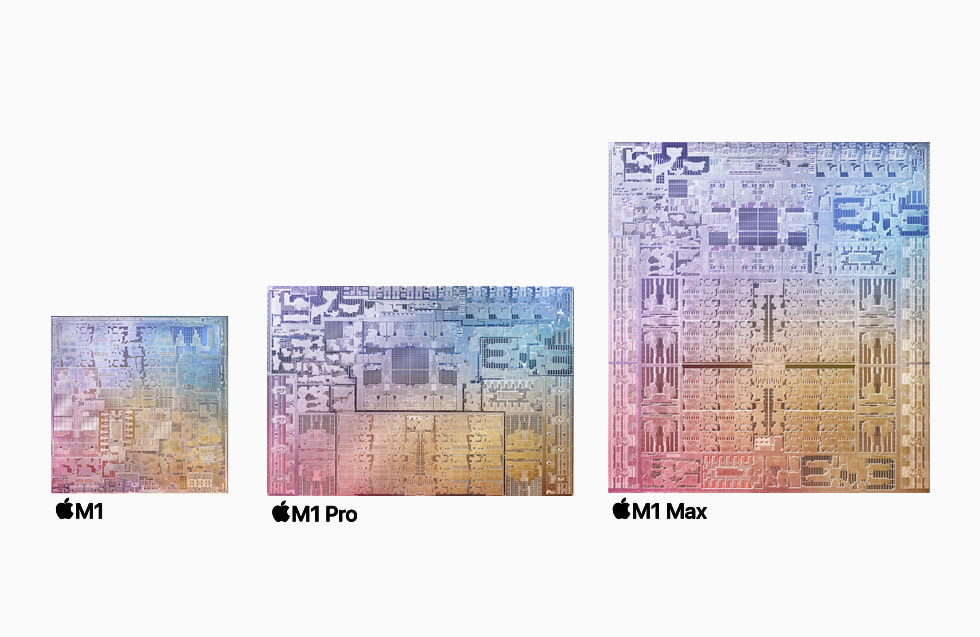 Again, putting the technical parameters fully aside, the new MacBook Pros have an interesting design (reminiscent of the old-school MBPs from end of the 2000's – early 2010 models), what seems to be a great keyboard, and promise excellent battery life.
I am personally enchanted of the Touch Bar going away, but I understand it will frustrate some of the users who found it useful. Using my MBP in clamshell mode with an external keyboard, I couldn't care less about it, but whenever I've had to type on the laptop, I was always hitting the touch bar and it was exasperatingly frustrating.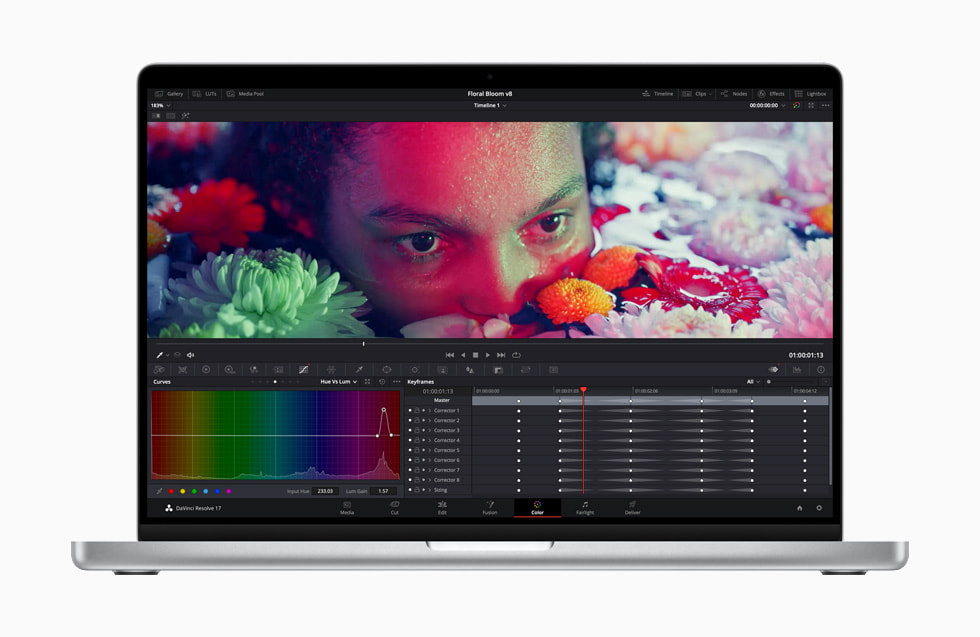 … With Some Quirks
There are some design quirks that are a bit annoying about the new MacBook Pro, but I will be able to share about it once mine arrives. Most are around connectivity, for example why only three USB-C / Thunderbolt ports. It is still one of the major drawbacks of the form factor: three ports are not enough, 4 is the absolute minimum.
The return of the HDMI port is honorable, but I wonder what impact it will really have. Until recently, we had to use dongles to plug HDMI devices to the MacBook, and the quality was so despicable (flickering), that I had instead to use USB-C/Thunderbolt to DisplayPort to make it work.
Another come-back is the SD card reader. I'm not into digital photography, so this is not a big deal to me, but it is still real estate on the device (motherboard and case) that might have been used differently. While a majority of folks are still using SD format cards, there seems to be a move to newer CF card formats, so I'm really wondering what motivated Apple here. It feels more like an appeasement move towards a disgruntled user base than the usual forward-thinking we get to see.
The last "major" issue I see is the absence of USB-A ports. I know, these are ancient, but folks doing audio / video are often stuck with USB-A devices – think for example of the Blue Icicle XLR to USB microphone adapter. Or the famous Elgato CamLink 4K.
Funnily, the webcam notch isn't something that is making me scream. I use the MacBook Pro docked with the lid closed around 95% of the time, so I'm fine with this. However… 1080p? This is a pretty sad resolution. Apple doesn't seems to take remote work seriously even after 2 years of pandemic. We conduct 100% of our meetings and interviews / recording remotely, and not every one has the luxury of a home setup. Especially the Founders / CxOs, VP and other Execs, folks with very limited time on their hand, whose laptop is at the heart of doing business. Apple should have known and done better. Boo.
But all in all, nobody is ever going to be 100% satisfied, as those devices cover a very large and varied user base. There's one thing that brings the community together, though: the return of the MagSafe connector.
Configuration Rationale
When we discussed with my partner in crime Arjan Timmerman about what configuration to go with, it was evident that we needed a system able to handle video rendering without the slightest issue. We also had to factor in some forward-thinking aspects such as future projected memory consumption, upcoming shifts in video quality rendering, and potential new applications. All while being cautiously realistic.
We settled for 64 GB of RAM to comfortably handle many applications being opened, especially with Google "RAM Dracula" Chrome, and the M1 Max (10-core, 32-GPU) to comfortably approach future workloads such as 8K video editing (a.k.a. "let us show you more pores on our ugly faces").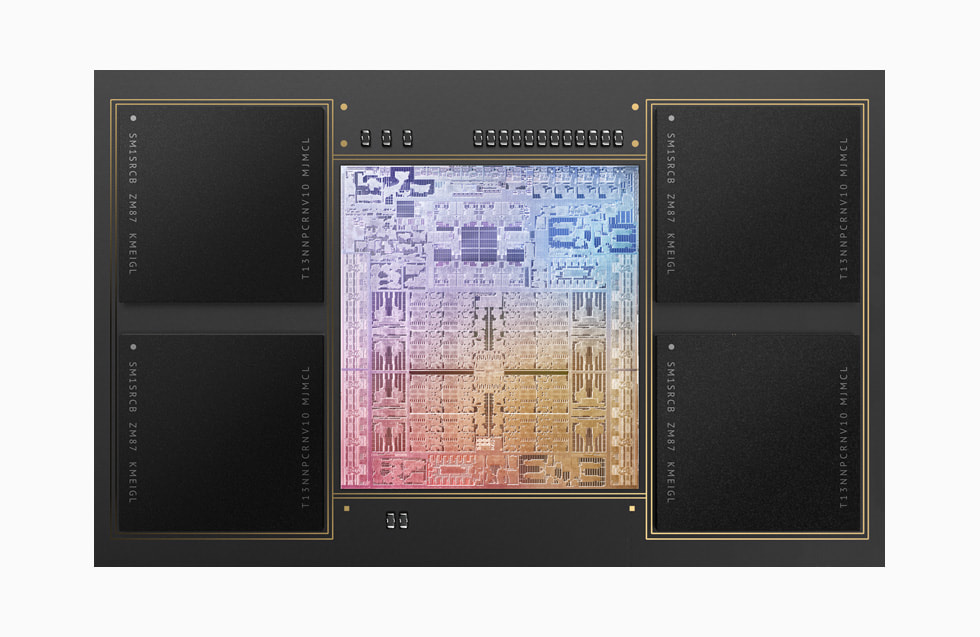 Storage wasn't a big deal, and 512 GB is enough for our current / future requirements, especially because we can used external NVMe SSDs if the need arises.
Available in 14-inch and 16-inch form factors, the device size isn't limiting the configuration options like it did in the past. I originally went with a 16-inch MBP not because of the device size, but because it was the only way to get the hardware power I needed while addressing mobility requirements. With the new M1 Pro / M1 Max systems, I can return to a more reasonable 14-inch form factor, earning back real estate on my desk. And not having to carry a heavy / cumbersome device while on the move.
Closing Thoughts
I'm looking forward to receive the new M1 Silicon-based MacBook Pro. It was the machine we had been looking for, the MacBook Pro as it was always supposed to be. Fast, powerful, efficient, silent. One of the concerns was application compatibility, but considering the very broad majority of apps we work with are supported natively – or will be with Rosetta – this is a minor concern.
If I put aside the tremendous technological prowess of the M1 Pro and Max chips, I have to agree with industry friends such as Giuliano Bertello and others. They rightfully remember us that most of the MBP design goodness we see today isn't innovation as much as acknowledging -and fixing- past mistakes.
Last word: if you think this article enters the "first world problems" category, I fully agree with you. As I ordered the new MacBook Pro last night, I did tell my wife that it might be a beast of a laptop, and that it might help us work better, but that it still doesn't brings the level of satisfaction that a glass of good red wine and a plate of pasta all'amatriciana generously served with grated pecorino can bring to your life.
In other words, let's not lose our focus on the essential and simple things that make life beautiful. M1 Max or not.